PRESS RELEASE JUNE 22, 2022
FORT LAUDERDALE, FL: SAR Trilogy Management, LLC announces Jeremy Epperson as the President and Chief Operating Officer of its Aero Centers FBO business. Aero Centers currently have two operating FBOs, the Aero Center Lakeland, FL (LAL), Aero Center Wilmington, NC (ILM), and one in development, Aero Center Spokane, WA (GEG)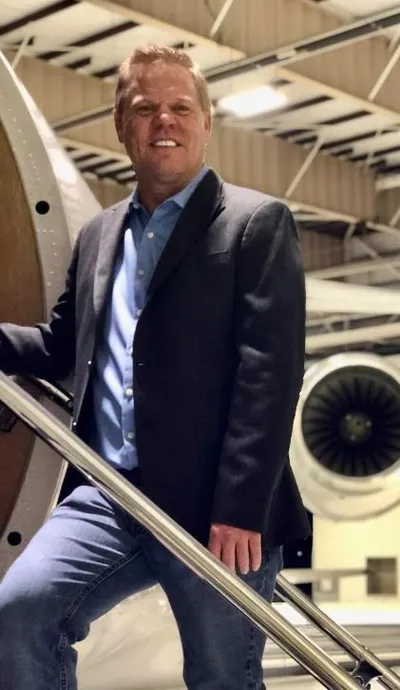 "Jeremy is a true world-class leader in the aviation community," said S. Michael Scheeringa, co-founder and managing director of SAR Trilogy Management. "His life-long passion for the industry and history of developing both people and markets made Jeremy our first and natural choice to lead Aero Centers." Epperson started his aviation career in the United States Marine Corps, where he developed his leadership and passion to serve. He graduated from the University of California, San Diego, and is a commercial pilot with P135 experience. He has demonstrated his affection for the business with successful FBO leadership roles at Signature and Republic.
"Aero Centers will bring a level of professionalism and experience back to aviation communities," added Jeremy Epperson. "Our FBOs demonstrate to the industry we are committed to first-class facilities with knowledgeable and experienced local team members with a passion for aviation. I am very excited to lead the team responsible for developing full-service FBOs and delivering customer-centric service to all aviation customers in a community. I had a vision for bringing passion, fun, and expertise back into aviation communities, just like it was 30 years ago. Aero Centers' focus on full-service FBOs brings the dream to reality."
Sanjay Aggarwal, co-founder and managing director of SAR Trilogy Management, shared, "Jeremy's leadership and obsession for both people and the aviation industry made him a perfect fit for the culture and service Aero Centers want to deliver. In addition, he has a history of developing winning teams and establishing life-long customer relationships. I am confident Jeremy will grow the Aero Center brand and ensure we deliver on our promise of industry-leading services delivered by motivated and well-trained local talent."
About Aero Centers: SAR Trilogy Management is creating a portfolio of locally managed and nationally recognized fullservice FBOs with the umbrella brand Aero Centers™. So far, three Aero Centers have been announced – Wilmington, NC (ILM), Lakeland, FL (LAL), and Spokane, WA (GEG). Aero Centers will offer a full spectrum of general aviation services either themselves or through partnerships or tenant management. These services include a private terminal, aircraft parking, storage/hangar, Part 145 Certified Repair Station, aircraft management, charter broker, Part 135 charter operations, Part 141 flight school, and commercial into-plane service. In addition, each Aero Center will be known as a customer-centric private aviation expert to the community it serves.
For Media Inquiries: info@aerocenters.com or call S. Michael Scheeringa at 440-591-0474.