SAR Trilogy Management, LLC has announced Ashley Udick as General Manager of Aero Center Lakeland, its FBO complex at Lakeland Linder International Airport (KLAL). Udick is currently overseeing the construction of the company's first FBO complex, which will open in late May 2021.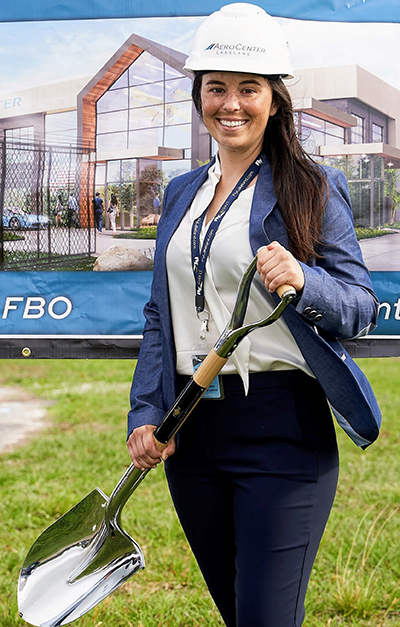 Aero Center Lakeland is located midfield off taxiway A (for pilots) and at the end of Airport Road (for drivers). Phase I of the Aero Center Lakeland build includes a new 3-acre air transport capable ramp, a 50K gallon fuel farm, and a modular/temporary FBO. In the 4th quarter of 2021, Phase II will add an 11K square feet FBO and office space as well as two hangars of 10K and 15K square feet.
Udick joins the Aero Centers team with over ten years of aviation-related management experience, including leadership roles at Sonoma Jet Center, Winter Haven Airport, and Sheltair. Recognized for her emphasis on customer service by International Aviation News in 2019, Udick will lead Aero Center Lakeland as a customer-centric expert to the private aviation community in Lakeland.
"Returning to KLAL to launch Aero Center Lakeland is a challenge that I am excited to take on because of the supportive aviation community that I know first-hand exists here," says Udick.
Michael Scheeringa, co-founder of SAR Trilogy Management shared, "Ashley's leadership reputation for the local aviation community and customer orientation made her a perfect fit for the culture Aero Centers wants to deliver. She possesses a stellar track record and came highly recommended." Sanjay Aggarwal, co-founder of SAR Trilogy Management added, "I am confident Ashley will establish Aero Center Lakeland as the provider that offers the same excellent services to general aviators and business jets alike, whether traveling locally, nationally, or internationally."
Aero Center Lakeland is strategically located on the I-4 corridor between Tampa and Orlando, serving the rapidly growing business community, tourist destination icons including Walt Disney World, Busch Gardens, Universal, and Legoland, as well as transient travelers that can take advantage of the international capabilities of KLAL.
SAR Trilogy Management had earlier announced Aero Center Wilmington, its second location with a similar footprint in Wilmington, NC (KILM), slated for completion in the second half of 2021.